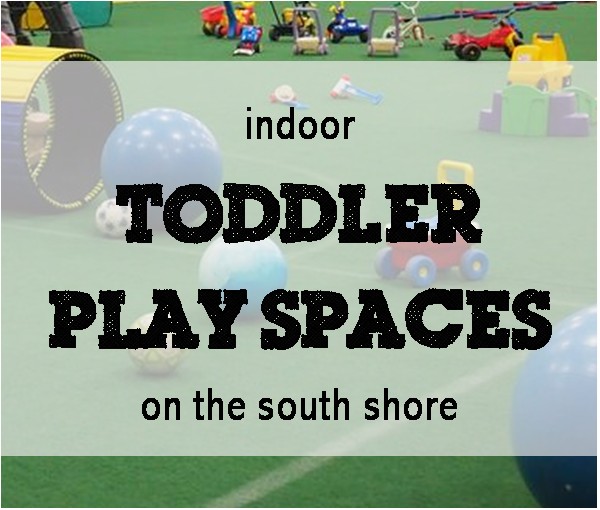 Although there are plenty of indoor spots to take the kids to run off a little steam, many of them are geared towards many ages, and aren't necessarily toddler friendly.  If you have an toddler at home, you're looking for a safe space with appropriate toys, and good sight lines to view your child.  Chances are you'd love a place to sit for a few minutes, and free wifi wouldn't hurt.  Bonus points if there aren't "big kids" zooming by sending your little guy into a tailspin, making spots that cater to 6 and under extra special!
If you're trapped in the house with your tiny people and need to get out for a bit, check out these 5 local spots that are perfect for toddlers to play in.  Call up some mama friends, grab a cuppa coffee, and get out there!
Winter Indoor Playground
Hingham Recreational Center
210 Central Street
Hingham MA
Hours:  Fridays 3-5:15pm,  Saturdays 8:30am-11pm
Open from December 4, 2015 – March 19, 2016
Ages:  0-5 years old
Price:  Drop in rate of $5 per child
Description:  Ride-on toys, obstacle courses, climbing structures and tumbling mats provide energy-burning fun for your baby or toddler inside the Hingham Recreation gymnasium. Each week brings new surprises (bouncy house, dress-up costumes, and more).  No Sign-Up Required Child MUST be accompanied by an adult.
Launch Trampoline Park - Toddler Time
570 Providence Hwy
Norwood MA
Hours:  Every Monday, Thursday & Friday from 10:30am-12:30pm
Ages: 5 and under
Price:  $10/child, accompanying adult jumps free
*Please note: most programs are not run on holidays or school vacation weeks. Please call ahead to check availability.
Toddler Town
Marina Bay Sportsplex
260 Victory Road
Quincy, MA
Hours:  Mon-Fri  9am-2pm
Ages:  Infants – 6 years old
Price:   $8 daily admission, 10 visit pass for $65.
Description:  Indoor space for infants to 6 year olds featuring turf field with two full sized bounce houses and a variety of toys and play equipment including: play tunnels, rocking horses, Little Tikes trampolines, slides, climbing boat, and more. Open field layout, easy for adults to sit back and enjoy watching or get up and join in the fun.   Bring lunch and enjoy a picnic in the dining area.
Adults are free.  Children 11 months and under are free with paying sibling 1 through 6 years of age.  Children 11 months and under with no siblings $5.00 daily admission.
Children's World Indoor Playground
465 Turnpike Street
Canton, MA
Hours:  Mon- Fri: 9:30am - 6:30pm, Sat-Sun:  9:30am – 8pm
Price:  1st Child $12, Additional Child $10. 1st Adult Free, Additional Adult $2
Description:  Indoor space with a train table, dome climber, ride-on vehicles, bikes & scooters, Legos, a pretend play home and kitchen area, two bounce house with slide, art & drawing station, mini trampoline, play house, a snack table area, and more.  Toddler area (under 2 only) includes a soft climber, jumper, walkers, caterpillar tunnel and more.  Free coffee, free wifi.  Hours may vary due to private functions, check website before heading out.
*Check website for changes in open play hours.
South Shore Children's Museum
1775 Washington St.
Hanover, MA
Hours:  Tuesday - Sunday, 10am-6pm
Price:  $5/person
Description:  The South Shore Children's Museum is where play and learning come together!  The museum provides an opportunity for children to discover our nation's rich past through hands-on experiences -- without ever having to leave the South Shore!  Each exhibit teaches them about a different aspect of American history through exciting interactive play. From creating crafts to sharing stories, children will learn about America and have fun doing it
NOTE:  Our original post included 2Cool Jr in Canton, which has discontinued it's Toddler Playground section as well as open play time, with the exception of select school vacation days.