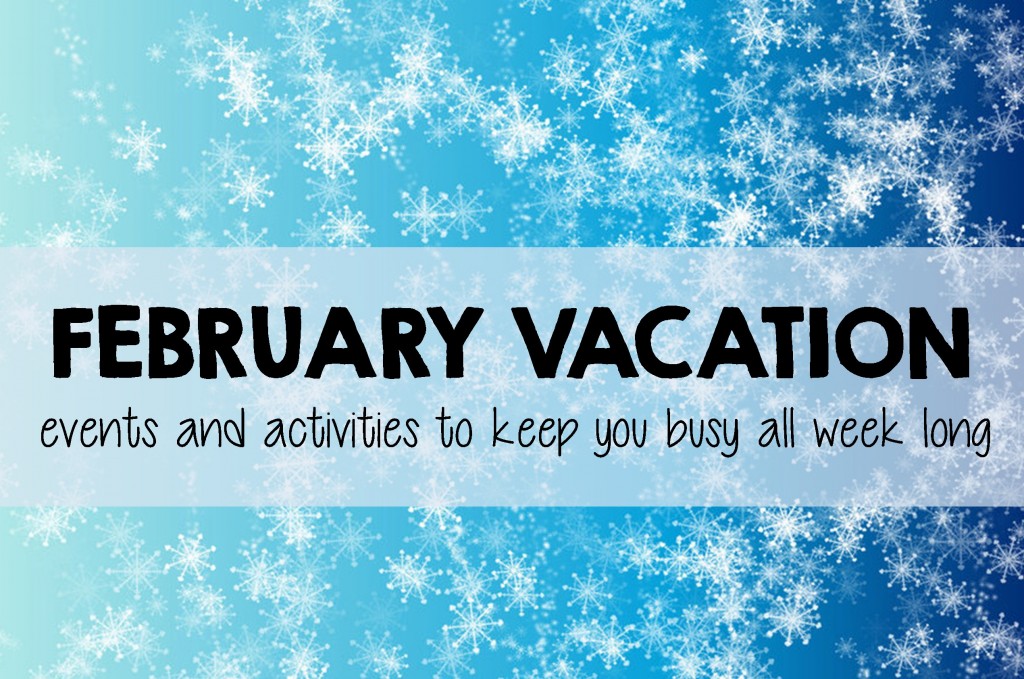 February vacation is right around the corner.  If the thought of five days that need to be filled with kids activities is making you sweat, don't worry, we've got you covered.  There are special school vacation activities happening all over the South Shore, all week long, that will keep you and the kiddos busy and happy!
Battleship Cove
Pacific Island Day
Feb 20, 9am-4pm
Journey to the Pacific Islands and seas where the battleship and PT Boats spent time during World War II. Come ashore and explore with fun activities, photo ops and musical performances for the whole family.
Big Ryan's Tall Tales
Vacation Week Performances
Feb 16, 10:30am – Hingham Library
Feb 16, 2:00pm – Acushnet Library
Feb 17, 10:30am – Concord Library
Feb 17, 2:00pm – Kingston Collection
Feb 20, 10:30am – Mansfield Library
Blue Man Group
Vacation Week Specials
Feb 15-17
Free face painting before specified showtimes during vacation week, plus kids eat free at Fire & Ice or MJ O'Connor's with  your ticket from the show.
Carousel Family Fun Center
Vacation Week Open Skate
Feb 12-21
Open skate sessions throughout the week – see calendar on website for details.
Children's Museum in Easton
Whodunnit Mystery Series
Feb 13-21
There's lots of fun things to do at the Children's Museum during February School Vacation week.  Solve a mystery, make a craft and of course, explore the Museum's three floors of hands-on exhibits!
Ecotarium
Winter Vacation: Frozen Forest
Feb 16-19
Explore the chilly world within the frozen forest during February vacation week! We will investigate how animals survive winter and explore the science of snow. Venture out with us and learn first hand how humans have adapted to winter weather throughout history. Bundle up for a week of cold-weather fun!
Legoland Discovery Center Boston
Lego Movie 4D – A New Adventure
Feb 15-21
Visitors can build their own creations to add to Boston's version of "Bricksburg," the LEGO town created by Will Farrell's character in the original The LEGO Movie™. During the week, LEGOLAND Discovery Center Boston's Master Model Builder Megan Quigley will also do a gradual takeover of MINILAND by incorporating builds and characters from the movie.   Wear your favorite The LEGO® Movie shirts or costumes and staff will surprise guests with LEGO prizes. In addition, throughout the week, visitors will get surprise visits by Emmet, the hero of The LEGO Movie and the new The LEGO Movie 4D A New Adventure, which will premier at the Legoland Discovery Center on February 20th!
Mass Audubon
February Vacation Week
Feb 16-19, 9am-3pm
School may be closed, but nature's playground is wide open! We'll spend time both indoors and out, investigating tracks and adaptations of winter wildlife, combing the beach for treasures, and enjoying games, crafts, and fireside treats. Participants will experience the joys only winter weather can provide, and be entertained, energized, and even (Shh – don't tell them!) educated about how plants and animals weather the cold. Each day brings a new set of adventures! For ages 6-11 in grades 1-5.
Michaels
Kids Club Classes
Feb 13, 10am-12pm – Valentine Dreamcatcher
Feb 20, 10am-12pm – Monogram Clothespin Frame
Let your kids explore their creativity while you shop! Kids 3 and up can enjoy a quick project and take home a finished masterpiece. Sign up in store or online, or just drop in. $2 per child, supplies included. Parent or guardian must remain on premises during the event.
Painting with a Twist (Braintree)
Kids Painting Classes
Feb 15-19, 1-2:30pm
Drop off class for kids during February Vacation week, featuring a different painting each day!  Everything needed to create a masterpiece is included (16″ x 20″ canvas, acrylic paint, brushes, etc). $25 per person, per class.  Ages 7 and up.  See calendar for painting selection by day.
Patriot Place
Shopkins Trade Party
Feb 15, 1pm-3pm
Trade your Shopkins with fellow fans and checkout all the great Shopkins available at Claire's on Monday, February 15th from 1:00 p.m. – 3:00 p.m.!
Providence Children's Museum
School Vacation Fun
Feb 15-19, 11am-2pm
When school's out, the Museum is open, with special activities all week long! Enjoy Keith Munslow's funny tongue-twisting tunes. Be amazed by hilarious mind-bending tricks in The Hoopoe Show. Witness mesmerizing Mad Science experiments. Build and create with big blue Imagination Playground blocks. And more!
South Shore Children's Museum
February Vacation Week Activities
Feb 14-21Activities all week long, including a Teddy Bear Picnic and Puppet Show on Friday, February 19th.
South Shore Natural Science Center
Eyes on Owls
Feb 15, 11am, 1pm, 3pm
Owl expert Marcia Wilson will introduce us to her menagerie of owls. Get an up close view of these amazing denizens of the New England fields and forests. We promise it'll be a hoot! Ages 3 & up.
South Shore Pottery Shop
Kids Art Classes
Feb 13-19
Sign up for various kids art classes and projects throughout the week.  Sign up for classes online.
Wampatuck State Park
Wild at Wampatuck
February 18, 12pm-2pm
Join us at the Wompatuck Visitor Center for a FREE nature program for kids and their families.  This two hour program for school age kids includes a walk through the park (wear your winter clothes and boots!), a wildlife scavenger hunt and hot cocoa in front of the fire.