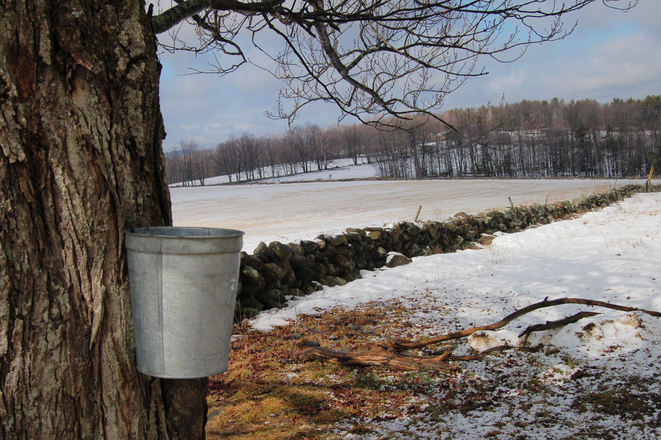 You may love it on your pancakes and french toast, but have you ever wondered how maple syrup is made?  If so, you're in luck!  Throughout the month of March, farms throughout the South Shore (and beyond) are starting the process of tapping sap and boiling syrup, and open up to the public for tours and family events that show the maple sugaring process from start to finish.  Take a look!
Please note that registration may be required for some events.  And as always, check with individual websites before heading out, as schedules may change.
[jbox radius=1]Maple Day
South Shore Natural Science Center, Norwell
March 13th, 11am-4pm
$5 Member; $8 Non-Member
Join us as we explore maple history, culture and production. Enjoy the process from start to finish as you help tap the trees for sap and then watch how it is boiled into syrup. The day will include scheduled woodland walks to tree tapping, sweet treats, fun crafts and lots of activities.  [/jbox]
[jbox radius=1] Maple Sugaring Celebration
North River Wildlife Sanctuary, Marshfield
March 19th, 9am-11:15am
$7 Adult/$5 Child for members, $10 Adult/$8 Child for non-members
Join in the fun at the North River Wildlife Sanctuary, as we celebrate the sugar maple tree and all that it provides us. Participate in outdoor stations that explore maple trees and tree tapping throughout history, tap a tree, and sample different grades of syrup and maple sugar with silver dollar pancakes. This fun and interactive program has something for all ages.  Registration is required.  [/jbox]
[jbox radius=1]Maple Days
Old Sturbridge Village, Sturbridge
Weekends in March: 5th/6th, 12th/13th, 19th/20th, 26th/27th
See the entire sugar-making process, from tapping the trees to "sugaring off," and learn why maple sugar was more commonly used than maple syrup in early New England.  Learn about how maple sugaring has changed over the years through our Maple Sugaring Timeline, an examination of different tapping techniques. See demonstrations of the traditional Native American methods, early 19th-century New England, 20th century metal buckets, and contemporary tubing.  [/jbox]
[jbox radius=1]Maple Farm Tours
Davell's Maple Farm, North Attleboro
$7 for adults 13 & up, $5 for kids ages 3-12, children under 3 are free
Tours run during late February through early March, weather permitting and if the sap is flowing at that time. Please check the calendar as it gets closer to the date to confirm that we are boiling. Our tours are instructional and hands on for children. We guide visitors through the whole process of sap to syrup. They will identify maple leaves through leaf rubbings, learn about the trees best for sap, drill and set a tap into a tree stump, collect sap samples, (taste sap if they want) collect firewood, witness the sap being boiled and finally, taste the finished product.  [/jbox]
[jbox radius=1]Sap to Syrup Tours
Matfield Maple Farm, West Bridgewater
Tours scheduled through March (see website)
$7 per person
Come view maple syrup made keeping with old traditions using new technology. The tour includes a hike through our farm approximately 1/4 mile into woods where the trees are tapped, plumbed and the collection tanks are. Hear about the history, weather relationship and heritage of sugaring. View natural FDA certified springs and visit with our furry llama friends. Thanks to our incredible supporters over the years, in January 2007, the tour paths were improved! Hopefully this will help eliminate much of the mud that we experience every spring with the freezing and thawing temperatures.
Tours run Saturdays and Sundays in March. No reservation is required; no minimums. Admission is $7.00 per person.  Tours begin promptly at noon and again at 2:00pm. Everyone should dress appropriately for the weather. Especially boots!!  [/jbox]