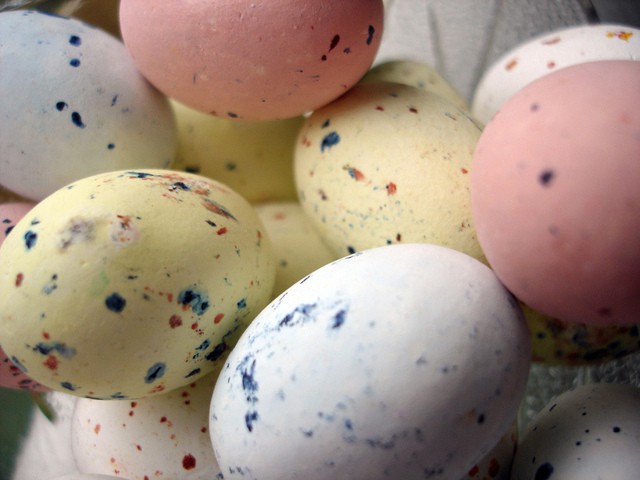 Looking to snag a photo with the Easter Bunny?  We've got the scoop on where to find him all month long.  Some locations offer free pics (bring your camera), some charge a fee, and some offer coupons and packages.  Check out individual websites for details.
Bass Pro Shop, (Foxboro)
March 19th-27th
Take a free 4×6 photo with the Easter Bunny (times vary).  There will also be free crafts on Friday, Saturday and Sunday, and a free Easter Egg Hunt on Saturday and Sunday.  See website for details.
Burlington Mall
February 13th – March 26th
Hours vary by day, see website for schedule.  Reserve your appointment for a photo with the fluffy one ahead of time at simon.noerrbunny.com
Hanover Mall
Now through March 26th
Make a family memory getting a photo with the Easter Bunny!  The bunny is here regular mall hours.  See schedule and pricing.  *Pet Photos with the Easter Bunny will be on Friday, March 18th from 6-9pm.
Paragon Carousel (Hull)
March 26th, 12-3pm
Get your photo taken with the Easter Bunny
March 27th, 12:30pm
Annual Easter Egg Dash
Silver City Galleria (Taunton)
March 12th-26th
Visit the Easter Bunny Monday – Saturday from 11am-7pm, and Sunday from 12-6pm.
March 20th at 9am – Bunny Breakfast
Have breakfast with the Easter Bunny.  Cost is $5 per person, advanced registration required. Find out more here.
South Shore Plaza (Braintree)
Feb 20th-March 26th
Get your photo taken with the Easter Bunny.  See website for time.
Roger Williams Park Zoo (Providence, RI)
March 19th, 20th, 25th, & 26th, 10am-12pm & 1pm-3pm
Hop along the bunny trail to the Carousel Village in Roger Williams Park to enjoy a special moment with our friend, the Easter Bunny! Bring your own camera to capture the magic, ride the carousel, and enjoy fun activities.  Admission for children over age 1 is only $5; adults visit free.
Buttonwood Park Zoo (New Bedford)
March 19th and 26th at 9:00am
Back by popular demand! Hop over to the Buttonwood Park Zoo to meet the Easter Bunny! Enjoy an egg-cellent breakfast buffet, meet and greet with some of our animal residents, head out into the Zoo for an egg hunt, and even watch some of the Zoo animals receive their Easter eggs! Don't forget to bring a camera to capture your Easter Bunny visit. Zoo admission and free rides, weather permitting, are included in the program price.  Register now – this event always fills up!