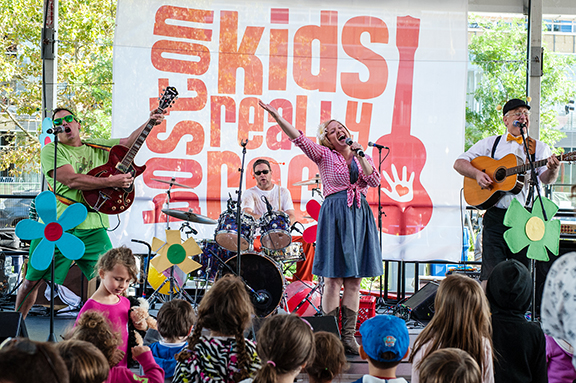 South Shore Conservatory's (SSC) Wacky Wednesdays Family Concert Series kicks off on Wednesday, June 29th at the Jane Carr Amphitheater in Hingham.  Karen K and the Jitterbugs will perform as the first of five family-friendly Wednesday morning concerts this summer.

Wacky Wednesdays is one of two series in the Conservatory's diverse Summer Spotlight outdoor summer entertainment series, which is celebrating its 20th anniversary this season.   Summer Spotlight also includes Evenings Under the Stars, Saturday evening concerts held throughout July.   
This summer's schedule includes:

Wednesday, June 29, 10 am
Karen K and the Jitterbugs – Karen K & the Jitterbugs are one of Boston's most beloved bands for kids and their adults. Delivering a high-energy, interactive live show of original music that has tots and grown-ups happily toe-tapping along, the band has been honored with multiple national awards including a Parents Choice Award for their sophomore album, Big Ol' Truck, and Best Kid Video of 2015 for their hit I Woke Up in a Fire Truck.
Wednesday, July 6, 10 am
Keith Munslow – Over the years, Keith Munslow has entertained thousands of children and adults at festivals, concerts, schools and libraries throughout New England, including at SSC. Keith has made numerous recordings for children and families, including Accidentally On Purpose, and Dressed Up for the Party, both of which garnered Parents' Choice Awards and national radio play. His newest album, Tiny Destroyer, features stories and songs reflecting the chaos and humor of everyday family living.
Wednesday, July 13, 10 am
Little Groove – Little Groove performs fun, educational music for children ages infant through eight. Children enjoy being a part of the musical experience, using their bodies and voices to sing along to catchy songs that help them build important motor and social skills.  Children play real instruments such as drums, shakers, and tambourines while they dance, sing, and groove to songs about anything from playtime and sleeptime, to trains, planes, rainbows, ducks, and dogs. Parents and caregivers are encouraged to join in the musical experience too!
Wednesday, July 20, 10 am
Vanessa Trien and the Jumping Monkeys – Boston-based singer-songwriter and children's performer, Vanessa Trien, has become a local rock star among SSC's Wacky Wednesdays young and young at heart audience members. The Carr Amphitheater rocks as "Nessa Groupies" sing and dance in the aisles at her packed shows with her lively band. Her interactive performances are best suited for children from kindergarten to age ten.
Wednesday, July 27, 10 am
Zak Morgan – With a background in children's literature plus a GRAMMY® nomination for his kids' songs, Zak Morgan and his unique brand of children's music delivers songs and poems with wit and charm that inspire and tickle the funny bones of children and adults alike. At last year's Wacky Wednesdays performance, Zak captured the young audience with his hilarious actions and lyrics.
Tickets for family concerts are $15 for adults and $5 for children.  Special packages are available for groups of 10 or more.   There is no charge for children under three.  Tickets may be purchased online at www.sscmusic.org/wacky_wednesdays or by calling 781-749-7565, ext. 22.
The Jane Carr Amphitheater is located at One Conservatory Drive in Hingham  For more information about all South Shore Conservatory programs and events, visit www.sscmusic.org or follow us on Facebook.