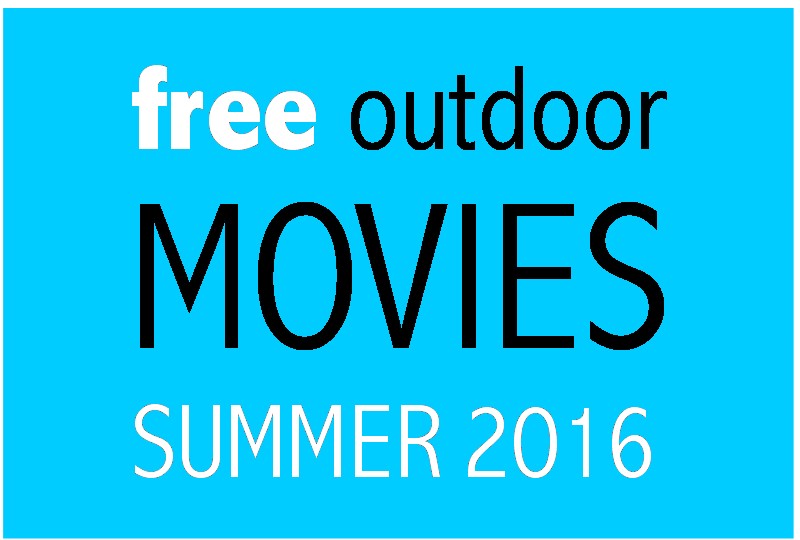 Grab your blankets and chairs, pack some snacks, and head out to one of these free movies series on the South Shore (and a bit beyond) this summer! 
Did we miss one?  Let us know!  We'll be adding new events as we get them, so be sure to check back.
[jbox radius=1] Braintree
Free family movie nights at French's Common adjacent to Town Hall at 8pm.  Pre-movie entertainment provided by Crystal Entertainment Services at 6pm.  A buck-a-buy concession stand selling hot dogs, soft drinks, snacks and candy will be on site.  Bring a lawn chair, a blanket and bug spray to enjoy the movie!
June 30th – Minions
July 14th – Goosebumps
July 28th – Star Wars – The Force Awakens  [/jbox]
[jbox radius=1]Derby Street Shoppes
Join us for FREE Outdoor Movie Nights Monday Evenings in July!  Pre-show entertainment begins at 6pm.  (6pm Kids activities & games with Knucklebones, 6:30 Face painting).  Movies begin at dusk, approx. 8:30pm. Movies will be in front of the REI parking lot in a designated area.
July 12th – Minions
July 19th – Inside Out
July 26th – Cinderella [/jbox]
[jbox radius=1] Hanover Mall Drive In Movie Night
August 2nd, 5-10pm
Join us for our 2nd annual Drive-in Movie Night at Hanover Mall on August 2nd from 5-10pm.  The drive-in movie night at Hanover Mall will be a first come first serve event, held in the back parking lot at the Hanover Mall (behind Wal-Mart). Cars will not be allowed into the drive-in area until 5pm.   There will be food/snacks and drinks and some fun with the South Shore Children's Museum as well!  [/jbox]
[jbox radius=1]Hatch Shell – Free Friday Flicks
Free movies shown at sunset.
June 24th – Minions
July 15th – Cinderella
July 22nd – Inside Out
July 29th – Star Wars:  The Force Awakens
Aug 12th – Jurassic World
Aug 19th – Up
Aug 26th – Ant-Man  [/jbox]
[jbox radius=1]Hingham Shipyard
Free outdoor movies on Thursday nights in July and August.  Bring your chairs and blankets and get comfortable!  Concessions will be sold by Patriot Cinemas on movie nights.
July 7th – Minions
July 21st – Inside Out
August 4th – The Spongebob Movie
August 1th – Pan
August 18th – Zootopia
August 25th – Norm of the North [/jbox]
[jbox radius=1]Patriot Place – Summer Flicks
This FREE outdoor movie series is the perfect family outing every other Wednesday! Pre-show entertainment begins at  6:00pm.  The film will begin at dusk.  Located on the NRG Plaza outside of The Hall Presented by Raytheon and the Patriots ProShop.  Remember to bring blankets and chairs.
July 1st – Back to the Future
July 13th – Minions
July 27th – Finding Nemo
August 10th – Aladdin  (rain date August 17th)
August 24th – Zootopia (rain date August 31st)
September 2nd – Star Wars: The Force Awakens   [/jbox]
[jbox radius=1]The Shops at Prudential Center
With free, family-friendly movies shown under the stars, the Magic 106.7 Family Film Festival is a great summer night out. Entertainment, children's activities and giveaways will start at 6pm. All movies will start every Saturday at sundown. Rain dates will be held the following Tuesday.
July 2: Minions
July 9: The Wizard of Oz
July 16: The Good Dinosaur
July 23: Tangled
July 30: Inside Out
August 6: Brave
August 13: Zootopia
August 20: A Bugs Life
August 27: Mary Poppins   [/jbox]
[jbox radius=1]Weymouth Movie Series
Held at the Ralph Talbot Amphitheatre next to Town Hall on Thursday nights in August.  Movies start at dusk (approximately 8pm).
August 4th – Inside out
August 11th – Minions
August 18th – Back to the Future (Shown at Lane Beach)
[/jbox]
Stay tuned for our annual list of FREE SUMMER FUN!