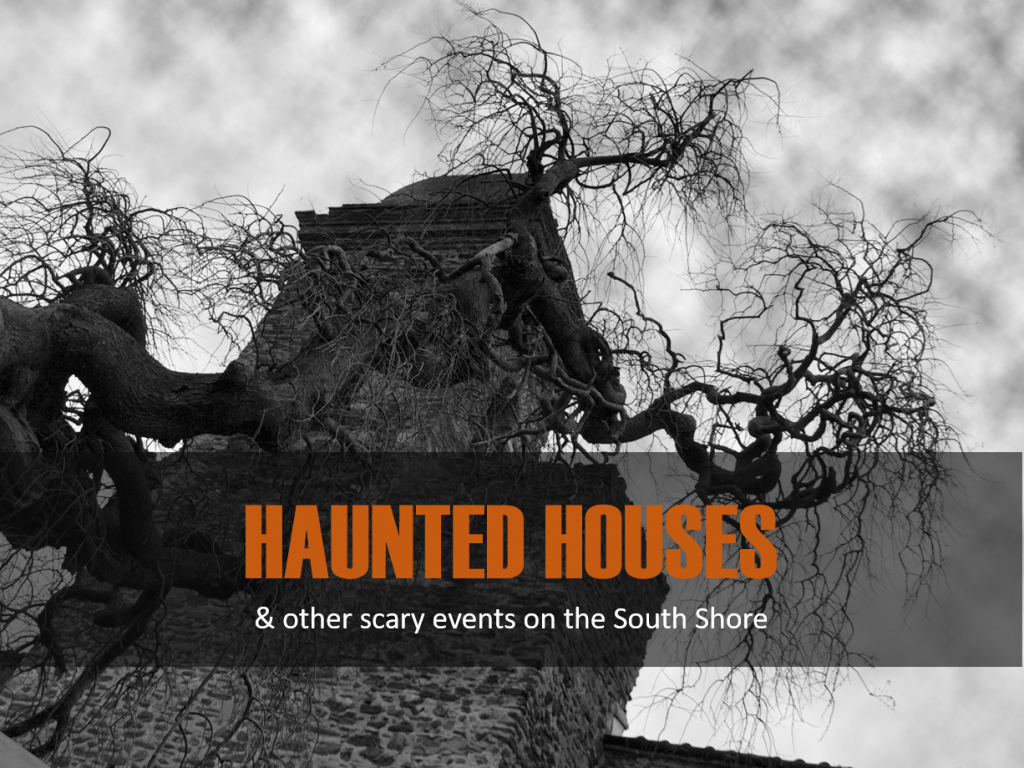 Earlier this month we posted our list of Family Friendly Halloween Events, full of fun activities the whole family can enjoy.  But if you're looking for something a little bit scarier, don't worry, we have rounded up some of the creepiest, scariest Haunted House experiences on the South Shore (as well as a couple of drive worthy locations a bit outside the area)!
These haunted happenings are not for the faint of heart!  Keep in mind that many do have a minimum age requirement, although some locations do offer  a "lights on" experience for younger children on specific nights.  Enjoy!
Barrett's Haunted Mansion (Abington)
There are 2 attractions at Barrett's, The Mansion and The Compound.  $30 admission gets you in to both.  Not recommended for children under 10.  Special lights on tours are held on Saturdays from 2-4pm, tickets are $10 each and include a backstage tour.  Darkness Unleashed nights held on October 17th and 25th (advanced tickets required).

The 7-1-5 Haunted House (Canton)
With over 50 live actors. Over 35 life size mannequins and animatronics. Professional Lighting, Sound, Smoke and projection effects. The 7-1-5 Haunted house is the perfect place to come and face your nightmares. All while gaining a few new ones.  We look forward to you joining us this next Halloween season, as you try and leave with your bodies, and minds, intact. When you try and survive The 7-1-5.
Canobie Lake Park Screeemfest (Salem, NH)
Weekends from September 24th – October 30th.  The scary fun starts at 6pm, featuring creepy characters, 5 Haunted Houses, rides, Rocktoberfest, and Screamfest games!
Ghost Ship Harbor (Quincy)
Open through October 31st.  Ghost Ship Harbor is an immersive haunted attraction new to Boston in 2016.  When arriving at Ghost Ship Harbor you will feel like you are in an alternate universe.  There is an activation area where you will find the food area, entertainment area serving beer and wine, tarot card reading,‍‍‍ Midway games, VR experience and more.  The Attractions take place on the deck of a 718 foot battleship.  For 2017 they have revamped all of the attractions so it will look and feel brand new.  Check out the brand new attraction called Fear No Evil!
Harvest of Horrors (Falmouth)
Enjoy a chilling haunted hayride across 20 acres of farm land, followed by a hike through the creepy forest at Tony Andrews' Farm in East Falmouth, MA. Thrills and chills at every turn! Frightful fun for the whole family, this event is recommended for adults and children 12 and over.  Open from 6:30-9pm, cost is $13. The is the LAST YEAR for this event. Complete season: Oct 7,8,13,14, 20, 21, 27 and 28. Gates open at 6:30 pm. Last ticket sold at 9 pm.
Haunted 20,000 Leagues Under the Sea (Foxboro)
Looking for a different kind of Halloween experience this year? Then step aboard a grim submarine haunted by a monstrous sea captain and explore Haunted 20,000 Leagues. With your wits as your only source of guidance, you will maneuver around each dark corner to find a captain who has gone mad, obsessed with becoming the master of land and sea. You will encounter strange experiments and unexpected horrors as you try to navigate through the grizzled sub in an attempt to escape out the diving bell. The Haunted 20,000 Leagues Adventure appeals to all ages 7 and older. For more information, or to book tickets, call 888-955-WITS.
Haunted Woods (Plymouth)
Held on Saturday, October 21st from 7-9pm.  Hosted by Old Colony YMCA.

Holbrook Haunted House (Holbrook)
Held on Thursday, October 26th from 6 p.m. to 9 p.m. and Friday and Saturday October 27th & 28th from 6 p.m.to 10 p.m. at 800 South Franklin Street in the former Stop and Shop Plaza. Family Night will be held on the event's opening night Thursday, October 26th, and the staff will take a less frightening approach during the walk-through to accommodate children. Tickets for the event will be sold at the door on the nights listed, admission for adults is $8.00 and admission for children (12 and under) is $5.00.
Hysteria at Connors Farm (Danvers)
Hysteria at Connors Farm is not for the faint of heart. Trek through winding trails through a creepy cornfield, a horror filled forest, along the banks of a real swamp, and to an AUTHENTIC 17 Century Burial Ground.   The sights, sounds, and smell...s you will experience at Hysteria are unlike ANYTHING you have encountered at traditional indoor haunted houses. THIS is what REAL nightmares are made of.  Held Friday and Saturday nights in October, and on October 31st.
Witch Mansion (Salem)
Open every day in October from 11am-8pm (or later).   Salem's premiere Haunted Attraction complete with ghostly illusions and high-tech, animated Monsters and Creatures of the Night! Our "Movie" Quality sets will make "you" a believer.  Not recommended for children under 10 years old.  Admission is $9 for adults, and $7 for children under 12.
Witches Woods (Westford)
Open Thursday through Sunday in October, and on Halloween night.  Admission is $37 and includes 7 attractions.