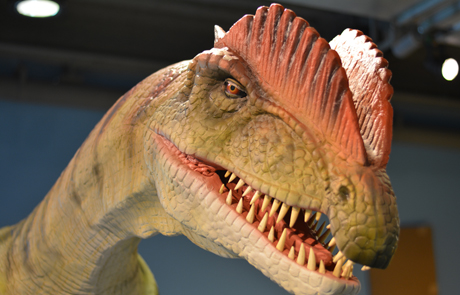 Boston Children's Museum has a brand new exhibit, just in time for February Vacation.  Starting February 17th, stop by and check out Explore•a•Saurus, a hands-on dinosaur exhibit that will let kids touch real dinosaur fossils, make their own dinosaur footprints, build their own dinosaur and more!

Week long activities include:
Looking at Evidence: Touch and hold real dinosaur fossils, and try making your own dinosaur footprints!

Design and Build your own Dinosaur!

Dinosaurs in the Media Slideshow

Explore our exhibits and learn about important dinosaur discoveries with the Museum-wide scavenger hunt

!

Using the evidence of texture rubbings and photos, see if you can find their sources in the Museum!

Kids up 0 to 3 years old can explore Dino Excavation and Textures in the Play Space.
In addition to daily activities available all week long, visitors will also enjoy these special events:
Dino Discoveries with Animal World Experience
Saturday, February 18 at 10:30am & 11:30am,  ASL interpreted
Sunday, February 19, 2:30pm & 3:30pm

Living "Dinosaurs"
Tuesday, February 21 at 2:00 – 4:00pm
Do you think a chicken is a living relative of a dinosaur? Come find out more.
Musical Storytime with New England Conservatory
Thursday, February 23 at 2:00pm & 3:00pm
Join us for a musical retelling of Have you Seen My Dinosaur and Saturday Night at the Dinosaur Stomp with New England Conservatory's Alix Raspe

KidsJam
Friday, February 24 from 6:30 – 8:00pm
Stomp like a dinosaur at our monthly family dance party.
The museum is open 10am-5pm Monday-Thursday and Saturday-Sunday, and 10am-9pm on Fridays.
For more information, visit BostonChildrensMuseum.org