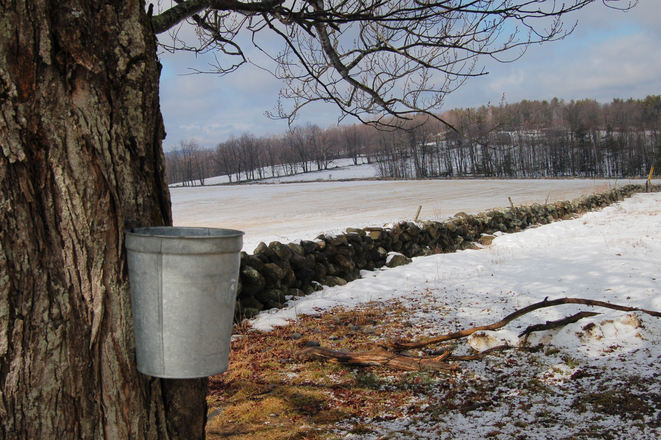 Throughout the month of March, farms throughout the South Shore are starting the process of tapping sap and boiling syrup, and luck for us they open up to the public for tours and family events that show the maple sugaring process from start to finish.  It's a fun and educational outing for the whole family, and often the tours end with a taste test or a sweet treat!  Take a look…
Please note that registration may be required for some events.  And as always, check with individual websites before heading out, as schedules may change.
---
South Shore Natural Science Center – Maple Day
March 12, 2017
11am-4pm
Join us as we explore maple history, culture and production. Enjoy the process from start to finish as you help tap the trees for sap and then watch how it is boiled into syrup. The day will include scheduled woodland walks for tree tapping, sweet treats, fun crafts and lots of hands-on activities.  Great for all ages!  Admission is $5/Member and $8/Non-Member.
---
Blue Hills Trailside Museum Maple Sugar Days Festival
March 18 & 19, 2017
12:00-4:00pm
It's sugarin' time in the Blue Hills, put on your boots and flannel shirt and join in the fun! Smell the wood smoke as you watch clouds of steam rise from the bubbling sap. Savor the taste of real maple syrup. Discover how people learned to get sugar from a tree. Take part in activities for all ages. Food and maple syrup will be available for purchase.  This outdoor event features a self-guided tour over flat, level terrain. You should plan to spend at least an hour and a half completing the tour. Afterwards, enjoy free same-day admission to Trailside Museum!  Admission is $10/adults, $5/children 3 and up, and free for ages 2 and under.  Cash only.
---
Maple Sugaring Festival at Moose Hill
March 19, 25, & 26, 2017
Guided walking tours offered every every 15 minutes between 11am and 3pm
Journey back in time to enjoy the time honored tradition of turning sap to syrup at Moose Hill's Maple Sugar Festival.   Join us for a special 90-minute outdoor, guided tour on a wooded trail to discover the history of maple sugaring. Visit the Native American and colonial site while meeting costumed characters from the past making maple syrup and reenacting other daily chores. Your tour will include a visit to our "sugar shack" where we turn sap into authentic maple syrup. All will get to taste!
Bring your winter appetite to savor "maple" delectables such as hot pancakes with maple syrup, "sap" dogs on buns and maple sugar popcorn served at the Nature Center. The sugaring fun continues at our children's craft tables.
Admission is $9 per person before the event ($11 per person day of the event).  Children under three are free. Preregistration is highly recommended, as this program tends to fill prior to the event date.
---
Old Sturbridge Village Maple Days
March 4-5, 11-12, 18-19 and 25-26
For many at Old Sturbridge Village, the first whiff of spring isn't the aroma of spring flowers – it's the smell of wood smoke and maple syrup, a sure sign that the sap is rising and spring is on the way.  Join us for four weekends of our Maple Days event throughout March, where you can see maple sugaring as it was done in early 19th-century rural New England in OSV's working sugar camp.
---

Matfield  Maple Farm in West Bridgewater has Sap to Syrup tours available by reservation only.  Great for school groups and scout troops.