If you have a birthday party, baby or wedding shower coming up, and you want to wow your guests with a stunning cake or adorable favors, I highly recommend Sweet Melissa Cakes and Cookies.  Owner and founder Melissa Kurtz never fails to amaze me with her beautiful and delicious creations!
She created this sweet cake to match the invitation for my daughter's first birthday party last summer and I couldn't have loved it more: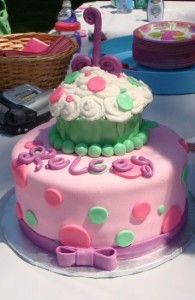 The top was a removable 'smash cake' for Kelcey to poke at, pull apart, and devour.  It was a huge hit with the birthday girl!  Working with Melissa was fantastic, she had lots of great ideas to help me create the perfect girly cake, and was super flexible too, which was great because I must have changed design directions 4 or 5 times in the month before the party. (Sorry Melissa!)  I've had Melissa's cakes at a few other parties as well, and they're always just as yummy as they are pretty!
To see more of Melissa's fabulous cakes, cookies and cupcakes, visit the Sweet Melissa website, or the Sweet Melissa Facebook page.
Sweet Melissa Cakes and Cookies is based in Holden, MA.  Cakes can always be picked up, or will be delivered to the Worcester Metro area for free.  (There is a .15/mile fee for delivery outside the Worcester area).
You can contact Melissa to discuss your custom cake and cookie ideas through her website, or by calling (508) 726-0650.