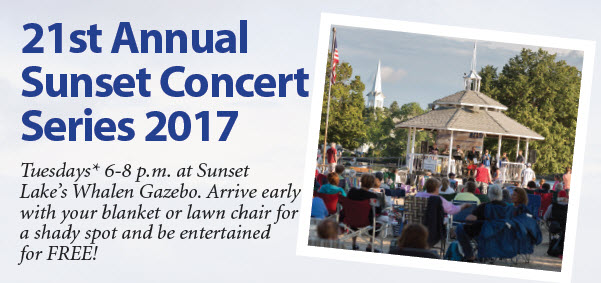 Every summer, Braintree hosts their FREE Sunset Concert Series at Sunset Lake's Whalen Gazebo.  Bring your blankets and chairs, grab a spot to sit, and settle in for some fantastic live music on Tuesdays throughout June, July and August!
June 20
4EVERFAB (rain date June 21)
This is New England's premier Beatles tribute band, featuring brilliant lead vocals, precise three-part harmonies and outstanding musicianship.
June 27
THE INFRACTIONS (rain date June 29)
Featuring the "Happening Horn," the Infractions have been a mainstay in the nightclub, college, wedding and concert scene. With a four-piece rhythm section and three horns, their music ranges from the '70s to the contemporary.
July 5*
RONNIE LEWIS AND THE EXPEDITION (rain date July 6)
With a broad range of popular music, this six-member band has been packing them in all over New England for decades, bringing to the stage an energy that is sure to please people of all ages. *note this is a WEDNESDAY concert
July 11
THE REMINISANTS (no rain date)
A popular group of six musicians who've performed at our town's Independence Day Celebration in the past, this band plays most any favorite song of our times.
July 18
JAVA JIVE (rain date July 19)
Our favorite summertime trio returns! This talented group provides sing-a-longs and dancing tunes from the '60s through the '80s.
July 25
HERITAGE HOUSE BLUES BAND (rain date July 26)
This local band is guaranteed to appeal to a wide range of audiences, playing a broad mix of blues, rock & roll, country and Texas swing. Come for hot dogs, hamburgers and everything else while supplies last this evening at our annual summer cookout.
August 1
CURRAGH'S FANCY (rain date August 2)
All eyes will be smiling as local Bob Fowkes and his talented bandmates perform Irish crowd favorites and requests, along with many sing-a-longs.
August 8
THE B STREET BOMBERS (rain date August 2)
The B Street Bombers are one of the most highly sought-after show bands in the Boston area, bringing high energy and world class music to any venue. Formed in 1980, the band has received tremendous notoriety for an outstanding level of musicianship delivering industrial strength R&B, rock, soul and funk.
Parking is limited at the beachfront, so if you can't find a spot there please use the lots a short distance away in South Braintree Square.
THE NEW BLUE REVUE will perform at Smith Beach Thursday, August 10, 6-8 p.m.