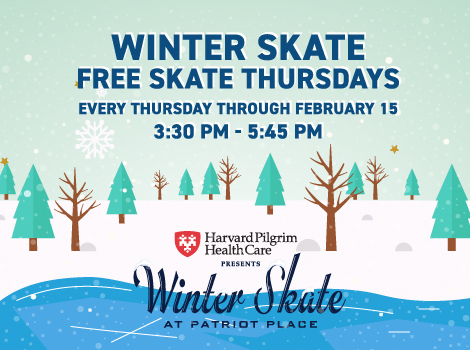 Patriot Place is offering Free Skate Thursdays through February 15th, from 3:30pm - 5:45pm!  Winter skate is located just outside of the Pro Shop at Patriot Place. All ages and skating experience levels are welcome.
Free admission does not include skate rentals. Skates are available for rent for $4.00 per person, and are available on a first come, first served basis.  Skaters are encouraged to wear warm clothing (mittens, water repellent pants, jacket, and/or snowsuit), and helmets (not available for rental onsite).
Please note that Winter Skate hours may vary due to inclement weather, holidays, Gillette Stadium events, or pre-scheduled private events.
For more information on Winter Skate, including hours and pricing, visit www.patriot-place.com/winterskate.