We're so excited to welcome spring in our house!  We're spending lots of time outside, doing spring crafts for some downtime, and even throwing in some fun baking with the kids.   This weekend we made these adorable Rainbow Cupcakes (recipe taken from the Disney Family Fun website).  A friend of mine made them with her daughter for St. Patrick's day, but I think they're perfect anytime.   These vibrant layers just scream spring!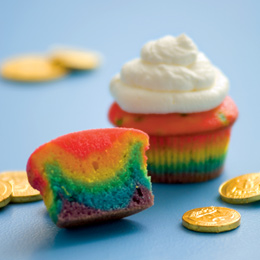 The recipe is super easy, just use a box of white cake mix, food coloring, and your choice of whipped cream or white frosting to top it off.  It took a bit of time to layer the baking cups with each color, but the kids were so amazed and excited with the finished product that it was worth it!   
If you prefer to skip the packaged cake mix and make your cupcakes from scratch, check out the Rainbow cupcakes recipe from Baking Bites!