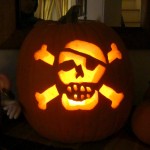 Whether you get your pumpkin at a rustic pumpkin patch or the local grocery store, the question remains the same:  To carve, or not to carve.   For the past two years, mostly for the kids sake, I've gone for the messier option #2.  (Yes, the picture featured in this post is indeed my 2008 Jack-O-Lantern attempt!)  In my opinion, the end result, plus the candid pictures of my kids scooping pumpkin goop into a bowl, is worth it! 
For those of you adventurous enough to get carving, check out Pumpkin Patterns 101 for help with your future Jack-O-Lanterns.  They offer a step by step tutorial on how to carve a pumpkin using a pattern. 
Search Google for Pumpkin Carving Patterns and you'll get plenty of results online.  If you're purchasing a Pumpkin Carving Kit at your local grocery or craft store, many of them come with a CD of patterns as well.  Lastly, take a look at this website by a talented woman known as The Pumpkin Lady, she has lots of great patterns, priced at $1.49 to $2.49 each.  She also offers a small number of free patterns on her site.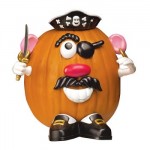 If you're not into carving, but still want to upgrade from a plain pumpkin, try the Mr. Potato Head Pumpkin Decorating Kits ($12.99 at BuyCostumes.com, but I've also seen them in Target stores for $5.99).  They come in a few varieties, like pirate, princess, clown, witch, and more.   The kits are adorable, and make it easy for younger kids to make their own pumpkin creation!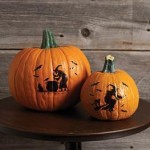 Another choice for the non-carvers are these Martha Stewart Pumpkin Transfers from Michaels  Craft Store.  The package includes 28 transfers for you to choose from.  It's super easy and very festive!