When Shannon, founder of Love Your Space Professional Organizing and busy mom to three young boys, told us what she was planning to make for Mother's Day gifts this year, we loved the idea so much we had to write about it.  Shannon has a knack for coming up with thoughtful gifts that really get the kids involved, and her Flower Pot Craft idea is no exception.  These flower pots are pretty and practical, and with the children's handprints decorating the sides, they become a sweet keepsake for any parent or grandparent! 
Shannon started with plain clay flower pots (purchased at Michaels craft store), and had the kids add a coat of white craft paint.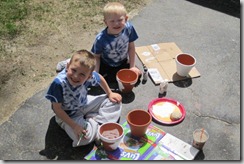 Once the pots were painted white, the boys added their handprints along the sides in different paint colors.
And then added little touches of their own!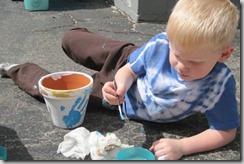 When the pots are dry and ready to use, Shannon plans on filling them with rosebush plants for the grandparents.  What a special gift!
Got a crafty idea for Mother's Day?  We want to know!  Email us at southshoremamas@yahoo.com.