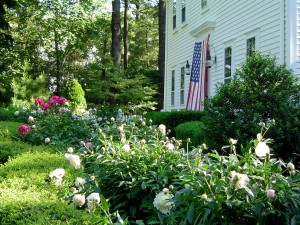 The Friends of Hope, a committee of the Friends of South Shore Hospital, invite the public to peek inside the secret main Street gardens of Hingham.  Eight Hingham homeowners are opening up their private gardens to raise money for the Journey of Hope campaign to support cancer care programs at South Shore Hospital.   
Hingham resident Colleen Tondorf, whose garden is on the tour, is a cancer survivor herself and now advocates for cancer patients.  She says
"Many of these Main Street gardens turn drivers and walkers into gawkers, wishing they could get a better look at these secret, beautiful, hidden, unseen parts of the garden. Perhaps you'll pick up a few ideas for your own space, or maybe you just want to get out and enjoy nature—no matter the reason, the purchase of a ticket helps cancer patients and their families receive both medical treatment and emotional support. Please help cancer patients beat their disease so they can get out again and enjoy simple pleasures such as our garden tour!"   
The Garden Tour will take place on Saturday, June 12th from 10am-2pm.    Tickets are $20, and are available at Noble's in Hingham Center, South Shore Hospital's Friendly Shop, and at all garden tour homes on the day of the event.  Tickets may also be purchased by calling (781) 624-8520.  
For more information about the
Secret Gardens of Hingham Tour
, including a
map of the tour
, visit the South Shore Hopsital
website
or contact Barbara Wahlstrom at (781) 624-4170.