Looking for a quick treat?  Try S'mores-on-a-stick, a super easy summer dessert that adults might like even more than the kids!   Perfect for parties, playdates and BBQ's, and easy to whip up in less than half an hour.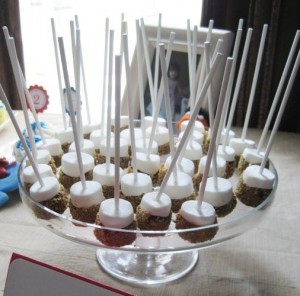 Here's what you'll need:
Marshmallows (regular size)
Graham crackers
Chocolate (I use the candy wafers you can get at Michael's or AC Moore, but chocolate chips would work as well)
Lollipop sticks (also from your local craft store)
Place graham crackers in a plastic sandwich bag and crush using a rolling pin, can, or even your hand.  Next, melt the chocolate in a microwave safe bowl.  Push lollipop sticks into the marshmallows, then dip into the melted chocolate, swirling around a bit to get the chocolate to reach about halfway up the sides of the marshmallows.  Last, gently roll the marshmallows in your pile of crushed graham crackers, and stand up on a plate.  Place your finished products in the fridge for at least 15 minutes to firm up the chocolate, then enjoy!
(In a pinch, I've also made these without the sticks, and they're just as cute and yummy!)