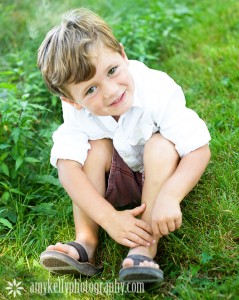 Mamas, I know it's only August, but if you're a planner like me, you're already thinking ahead to Back-to-School, Halloween, maybe even… Christmas?  Every year I try and try to capture the perfect family photo for our Christmas cards, and every year the kids respond to my obvious Christmas card stress by flat out refusing to appear on film together in a peaceful manner.  This year we're going professional, handing the responsibility of making children smile to someone who knows what they're doing! 
Local photographer Amy Kelly is offering South Shore Mamas readers a discount for planning ahead!  Get 15% off all Christmas card orders (cards only) for shoots placed by August 31, 2010.  The actual photo session can take place later, a deposit is needed to reserve the session.  Book yours now, and check it off your very long to-do list!
To see more local discounts available to South Shore Mamas readers, visit our Discounts & Deals page!