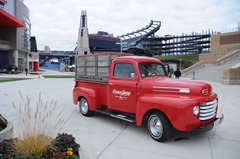 Come discover what Ocean Spray and the best of New England have to offer at the Fall Harvest Weekend, held on October 2nd & 3rd at Patriot Place in Foxboro! Hayrides, pumpkin carving, a farmers' market, cranberry harvest demonstrations at the Ocean Spray Bog and a Nature Trail at Patriot Place are just some of the main highlights this year. Not to mention free samples from some of Patriot Place's most delicious restaurants. 
Weekend Activities Include:
Live cranberry harvest demonstrations at the Ocean Spray® Bog and Nature Trail behind Bass Pro Shops. Third, fourth and fifth generation growers will detail talk about the harvest process and history of the cranberry.
Free Hayrides
Pumpkin Carving Demos & Pumpkin Painting Activity
Build a Bog Kids Activity
A Farmers' Market
Free samples of Ocean Spray's favorite fall products
Participating Patriot Place restaurants will offer a Taste of Patriot Place, with free samples of menu items highlighting New England's favorite Fall fruit, the cranberry.
Ocean Spray's® Tailgating Recipe Contest Cook-off:  Finalists will compete head to head to see who will win the title "Official Tailgate Recipe of the New England Patriots" on the line.  Contestants have been challenged to create the most innovative, cranberry-inspired tailgate creations!
See the complete weekend schedule for more details.
The Ocean Spray Tailgating Recipe Contest will take place on Saturday from 1-3:30pm in front of Tastings Restaurant.  Three finalists (already selected) will compete in a cook-off for the title of "Tailgate Recipe of the New England Patriots".  Chef Ming Tsai, host of public television's Emmy-nominated Simply Ming and chef/owner of the award-winning Blue Ginger will be on hand to judge the finalists and create a cranberry dish of his own!
"We're giving Patriots fans an opportunity to pair two fall passions, football and tailgating, by submitting their creative twists on cooking with cranberries," said Larry Martin, vice president of marketing at Ocean Spray. "Last year we were thrilled by the variety of ways consumers incorporated cranberries into their tailgate dishes; we saw everything from Kickin Cranberry Jalapeño Poppers to Big Game Cranberry Sausage-Stuffed Apples."
Katie Pelczar of Dedham was the first to receive the title last year with her winning recipe for Grilled Bacon Apple Bites with Cranberry Chunky Spread.  Check out her recipe below!
2009 WINNING RECIPE:  GRILLED BACON APPLE BITES WITH CHUNKY CRANBERRY SPREAD
by Katie Pelczar
Ingredients:
1 cup Ocean Spray® Fresh or Frozen Cranberries
1/2 cup water
1/4 cup Ocean Spray® Cranberry Juice Cocktail
1/4 cup raisins
1/4 cup sugar
2 tablespoons cider vinegar
1/2 teaspoon ground ginger
1 tablespoon olive oil
1/2 cup chopped onion
1 teaspoon chopped garlic
16 slices bacon
8 slices hearty whole-grain bread
4 teaspoons mustard
1 large apple, sliced
1/3 pound sharp Cheddar cheese, thinly sliced
Directions:
Preheat grill to high.
Bring cranberries, water, cranberry juice cocktail, raisins, sugar, vinegar and ginger to a boil in cast-iron pot or Dutch oven. Reduce heat; simmer for 10 minutes or until thickened.
Meanwhile, heat oil in small cast-iron skillet. Add onion and garlic; sauté until soft and slightly brown. Stir onion mixture into cranberry mixture.
Cook bacon on griddle until crisp. Spread 4 bread slices with mustard. Top with bacon, apple and cheese. Spread cranberry mixture on remaining 4 bread slices. Place bread slices, cranberry side down, on cheese to form sandwiches. Grill sandwiches on griddle until browned on both sides and cheese is melted. Cut each sandwich into 4 triangles. Serve with remaining cranberry mixture.
Makes 4 sandwiches.