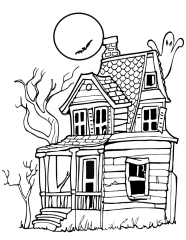 There are loads of haunted house events in the area, but for those of us with younger kids in tow, it can be hard to find an appropriate event for Halloween that won't send them running for the hills.  Here are a few local haunted houses and events that dedicate some time to the smaller ghosts and goblins in the family…
Braintree Haunted House, October 21st from 6-8pm, and October 22nd & 23rd from 6-9:30pm.   This year's theme is "Haunted Hospital."  The "Not So Scary" Haunted House designed for younger children will be held on Thursday Oct. 21st from 6-8 pm and is done with the 'fright factor' dialed back, with the lights on and actors dressed without scary makeup or masks.  The 'Regular' Haunted House, with lights off and participants in full makeup, will take place on Friday Oct. 22 and Saturday Oct. 23 from 6 to 9:30 pm, (Friday and Saturday nights may not be suitable for small children).  Cost is $5 per person.
Hidden Pond Haunted Ride at the Derby Street Shoppes in Hingham on Wednesdays, Fridays & Saturdays starting October 15th.  Take a ride through their haunted Hidden Pond where there will be 5 creepishly created stops including a visit with some rowdy skeletons.  Cost:  Admission is free but a suggested $3-$5 donation to one of their local non-profits is appreciated.
The Haunted Ship at the USS Salem starting on October 8th in Quincy.  Take a Guided Ghost Tour on Thursdays from 7-10pm or Fridays and Saturdays from 7-12pm.  If you have younger children, check out their Family days, performed with increased lighting and less monsters running around.  Family days are held every Saturday & Sunday from 12-4pm.  See the Haunted Ship website for the complete event schedule.  Cost: Adults are $15, children 11 & under are $10, and seniors are $10.  Guided Ghost Tours are $15.
Whitman Middle School Haunted House on October 22 & 23 from 6-9:30pm.  The Haunted "Maze" experience features favorites from the past 29 years and new technological innovations.  Cost is $7 per person. Younger children check out the Children's Maze, cost is $2 per child, parents are free.
If you've attended on of these events in the past, or intend to go this season, we'd love your feedback!  Comment here or email us at southshoremamas@yahoo.com.