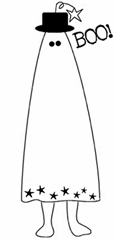 We love our neighborhood Boo tradition!  The kids (and I) look forward to it with great anticipation every fall.  They love opening the door on a random day to discover a bag full of Halloween goodies just for them.  Even more than that, they get absolutely giddy at the prospect of sneaking around the neighborhood ninja-style, leaving treats at their friends' doors, then bolting back down the sidewalk to avoid being seen.  To be honest, they usually only get as far as the front walkway of each house, then hand the bag over to me and insist that I complete the mission for them…  either way, it's great fun!  
Here are some links we've found useful in the past when preparing to BOO!
At You've been Boo'ed you'll find a simple poem and BOO sign.
Hersheys has 2 printable BOO signs to pass along.
Skip to My Lou has an adorable, crafty idea for your BOO baskets.
Find some festive BOO poems and signs here.
Don't BOO in your neighborhood, but want to start the tradition?  Get ideas on how with these articles at About.com, Hubpages.com or eHow.   
Happy Halloween!