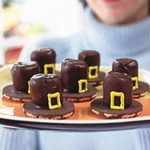 How cute are these Marshmallow Pilgrim Hats from Familyfun.go.com?!  Make them for a school party, a play date, or serve them to the little ones after Thanksgiving dinner!  They are super easy to make – you'll just need striped shortbread cookies (Keebler Fudge Stripes or the generic equivalent), chocolate chips (12oz. bag), marshmallows, and a tube of yellow decorating frosting.
Here's what you do:  
Set the chocolate-striped cookies stripes down on a wax-paper-covered tray, spacing them well apart.
Melt the chocolate chips in a microwave or double boiler.
One at a time, stick a wooden toothpick into a marshmallow, dip the marshmallow into the melted chocolate, and quickly center it on top of a cookie.
Using a second toothpick to lightly hold down the marshmallow, carefully pull out the first toothpick.
Chill the hats until the chocolate sets, then pipe a yellow decorators' frosting buckle on the front of each hat.
To see a video demonstration of how to create these yummy treats, visit the Famlyfun.go website.