Expressions Paint Your-Own Pottery Studio in Duxbury is holding some fun kids holiday workshops this month, perfect for creating one-of-a-kind gifts for grandparents, teachers and friends!
Can't make it to one of these events?  Expressions is a walk-in studio, so stop by anytime to create your own work of art.  Workshops are held in party room so there is plenty of room for walk-in customers in the main studio!
Parent/Child Holiday Handprint Plate                              Friday, December 10th at 10am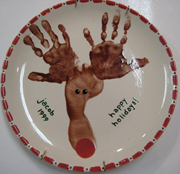 Kids, bring Mom, Dad, Grandma, Grandpa or any other special friend to help you paint a special Holiday Handprint Plate! Choose from reindeer, angels, Santa and more! We will help with your print and have lots of ideas for you to decorate your plate.
All ages welcome – even babies can come do a plate!  This is an informal class, usually 1/2 – 1 hour, depending on the children). Space is limited. Please sign-up in advance.  $20/plate (includes glazing and firing). Plates are ready one week. 
Holiday Gift Workshop: Drop-Off for Ages 6 – 14             Saturday, December 11th from 10am – 11:15am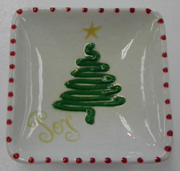 A great time for Kids to make a special holiday gifts! They will get to choose from functional pieces such as, plates, bowls, mugs, boxes and ornaments.
Space is limited, please sign-up in advance. $20+tax
Kids' Night Out!                                                                Friday, December 17th from 6pm – 8:30pm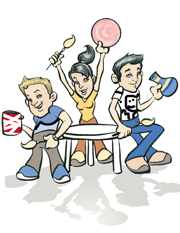 A fun night out for the kids' and a great time for you to go out to dinner or get some holiday shopping done!  Drop off the kids for painting, pizza, snacks, games & more! A great time for them to paint a special holiday gift.  Ages 6 – 14 (we will be using both rooms, so teenagers may choose to be separate from the younger kids!).  $30/child. Space is limited so please sign-up in advance.
If you stop by the studio, or attend one of these workshops, let us know, we'd love to post your review!