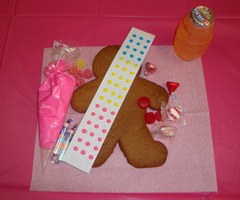 At Ginger Betty's Bakery in Quincy you'll find a tasty selection of ginger bread men, ginger bread houses, frosted cookies and more.  It's a great little place to stop for a quick treat and coffee in between errands and other morning activities.
I recently had the pleasure of attending a birthday party at Ginger Betty's.  The party room was set up so sweetly with bright tablecloths and balloons floating above each chair.  Each child had their own place setting that included a (huge) undecorated ginger bread man, frosting bag, and assorted yummy candies.
The kids (in our case all girls between the ages of 2 and 5), got to spend the next hour decorating two enormous cookies with as much frosting and candy as they could pile on.
When everyone had finished decorating, the cookies were safely stored in boxes to be taken home.  Next up was story time (a cute little story about a little girl named Ginger Betty), and then cake decorated by the birthday girl herself!
The shop itself is adorable, stocked with treats in all shapes and sizes, and even has a few tables and chairs if you want to sit and chat for a bit.  Their cookies and custom ginger bread houses are so beautifully decorated, they would make wonderful gifts!
Ginger Betty's Bakery is located at 215 Samoset Avenue in Quincy.  For more information about Ginger Betty's, including details on birthday parties, visit their website or call  617-472-4729.
For more birthday party ideas, including party venues, entertainment, supplies and theme inspiration, visit our KIDS PARTY LINKS page!