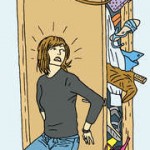 I have all intentions of being an organized person, I really do, but somehow clutter and disarray find their way into my house again and again.  I save magazines with organizing tips and fold over the edges of pages with ideas that I like.  These magazines now have their own pile on my dining room table.  I watch shows on decluttering and get seriously motivated for a day or so, then life takes back over again and I find myself shoving that big pile of stuff that lives on my counter into the china buffet when company drops by.  I'm hoping that I'm not alone here.  If you are battling an organization issue and would like some outside help, I just might have the answer!
Love Your Space is a professional organizing company that can help.  Love Your Space was founded in 2006 by Shannon, a local mom and mother to three young boys.  Shannon has a passion for organizing not only her own home, but yours as well!  I've seen her house, and can personally attest to the fact that she has serious talent in this area.  Love Your Space offers a free in-home consultation to discuss your needs and goals, then Shannon will work with you and your space until it is functional and neat again!  A follow up visit is included 6-8 weeks after the project is completed to make sure your new system fits well with your day to day life.  
No project is too small, so whether you're unhappy with an overflowing kids play room, a kitchen full of cluttered cabinets, or a disorganized walk-in closet, Love Your Space can help.   
Visit the Love your Space website today or call (508) 648-6981 to speak to Shannon about your space!