Get creative on Valentine's Day with these cute love-themed food ideas!
LOVE POTION #9 from Make and Takes
Blend together 2 cups of frozen red berries (strawberries or raspberries),
2 cups of milk (less if you want it thick), and 1/4 cup of sugar.  Pour into a large glass, garnish with a few more berries on top, and add a straw with fun heart embellishment!
 HEART SHAPED PANCAKES 
Heat a skillet or griddle over medium-low heat. Brush a metal heart-shaped cookie cutter with a little oil and place in the pan. Pour ¼ cup of batter into the cookie cutter and cook until pancakes start to bubble. Remove the cookie cutter, then turn the pancake and cook until slightly golden.  For extra holiday flair, add red food coloring to the pancake batter before cooking.
HEART SHAPED FRENCH TOAST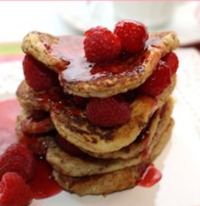 Prepare your French Toast as usual, then press heart shapes out of the toast with a cookie cutter.  Serve with strawberries or raspberries and powdered sugar.
VALENTINE PIZZA from One Charming Party
Add some heart shaped pepperoni to a store bought or homemade pizza.  Just buy sliced pepperoni, cut heart shapes out with a small cookie cutter, and add to the pizza before cooking.
RICE KRISPIE VALENTINE TREATS from Skip to My Lou
Mix up the traditional Rice Krispies Treat recipe, then either shape into hearts by hand or press into a a heart pan.  Insert a cookie stick, top with melted white chocolate, then sprinkle with Valentine's decorations.  Voila, cuteness!  See the entire recipe here.