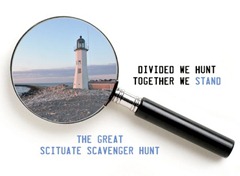 On Saturday, April 2nd, Twelve Women Care presents The Great Scituate Scavenger Hunt, a non-traditional fundraiser to benefit the Scituate Fire Department as well as many other local organizations.
This unique, family friendly event is open to anyone, not just Scituate residents!  Teams of four will attempt to complete as many challenges as possible, with the goal of scoring the highest point total. Each challenge is assigned a point value based on difficulty, and the tasks with the highest point values will involve an act of community service benefiting a local charitable organization, ie. the Scituate Food Pantry.  Teams will document each challenge using a digital camera and then need to upload their images by the designated end time.  At the end of the scavenger hunt, a panel of judges will tally the points and determine a winner.  Each member of the winning team will win a 16GB iPad!
The Great Scituate Scavenger Hunt will take place on April 2, 2011 from 12pm-8pm.  To register for this event, please visit the Twelve Women Care website. 
  *  *  *
Twelve Women Care is a group of 12 women from one community who are committed to making a direct local impact through deliberate generosity.