Treat the kids (and the adults) to some festive sweets this St. Patrick's Day with one of these three easy dessert ideas!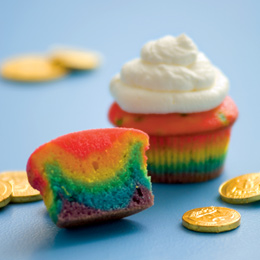 These multicolored treats are perfect for a St. Patrick's Day party or just a special after-dinner sweet.  The recipe is super easy, just use a box of white cake mix, food coloring, and your choice of whipped cream or white frosting to top it off.  It took a bit of time to layer the baking cups with each color, but the kids were so amazed and excited with the finished product that it was worth it!  If you prefer to skip the packaged cake mix and make your cupcakes from scratch, check out the Rainbow cupcakes recipe from Baking Bites. 
Lemon Jello makes it easy to serve up bowls of sweet edible gold to your favorite little Leprechauns.   Serve them in hollowed out limes or simply pile the golden cubes into your child's favorite bowl.  See the entire recipe at the Family Fun website.
Leprechaun's Shake
My kids go nuts for milkshakes, so why not serve up a green-tinted version for St. Patrick's Day!  To make, pour the following  ingredients into a blender and blend until smooth and green.
1 cup skim milk
2 scoops vanilla ice cream or vanilla nonfat frozen yogurt
1 teaspoon peppermint extract
2-3 drops green food coloring