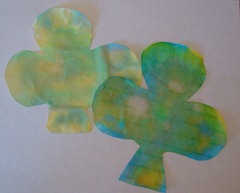 I love doing arts and crafts with my children, especially around holidays.  With three small kids, I'm all about easy crafts that use materials I already have around the house, and this Coffee Filter Shamrock craft fits the bill perfectly!  It's easy, festive, and even injects a little learning into the activity by letting the kids experiment with blending colors together.
Materials Needed: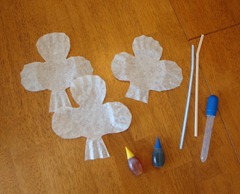 Coffee Filters
Food Coloring
Eye Droppers or Straws
Scissors
Instructions:
Cut shamrock shapes out of some coffee filters.  Layer a few together and cut at the same time to make it easier.  Next, mix together about 2 tablespoons of water and 5-10 drops of yellow food coloring. Do the same for blue in a separate cup.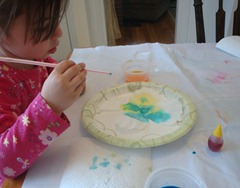 Use an eyedropper or a straw to drip colors randomly on the coffee filter shape. We used straws, it controlled the amount of liquid pretty well so that the filters didn't get saturated too quickly.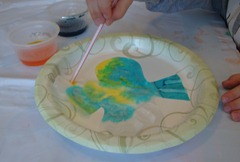 Yellow and blue will mix together to make green!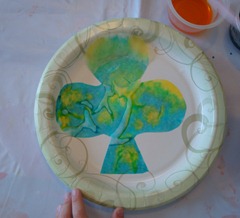 Let the coffee filters dry and you're done.  These colorful shamrocks make very cute door decorations!