The Showcase Cinema at Patriot Place in Foxboro offers weekly family friendly programs like storytimes, character visits, matinees, and even baby-friendly showings of 'grownup' movies.  Sounds great to us!  
Patriot Place Storytime – Patriot Place offers a FREE weekly event for kids and their parents. Kids Club Storytime is held every Tuesday at Showcase Cinema de Lux at 11:00am.  After a story reading a special character makes a weekly appearance followed by a short movie. Don't miss the surprises and the fun at this FREE, weekly event.

March 8 – Special guest Clifford
March 15 – Special guest Dora the Explorer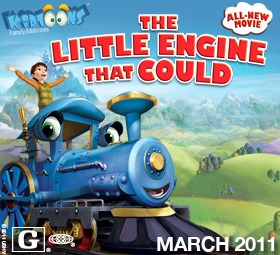 Kidtoons Family Matinee Movie – Kidtoons presents The Little Engine That Could! Showings will be on Saturday & Sunday, March 12th & 13th at noon.
Admission is only $3.50 plus you will receive a concession coupon for a $3.50 kids combo.

Baby Pictures – Enjoy the latest movies in a convenient baby-friendly setting at a discounted price of only $6!  Both shows begin at noon.  Amenities include soft lighting, lowered volume, area for strollers and baby changing stations. 
March 10 – BEASTLY
March 17 – Red Riding Hood
April 14 – Hanna
Celebrate your birthday with the Movie Stars!  The Showcase Cinema de Lux Movie Party features:
A dedicated party area and party host
Unlimited popcorn & soda
Invitations for your guests
Your movie of choice
Reserved seating in the movie theatre auditorium
1-2-3 Go Box for every guest to take into the movie (Small popcorn, choice of small drink, and choice of snack)
For reservations and pricing, please contact theatre management at 508-543-7154.