Printable toppers are an easy way to pump up the cute factor on your next batch of cupcakes.  A friend of mine, quite talented when it comes to all things party related, created these fun St. Patrick's Day cupcake toppers and I absolutely adore them!  They're perfect for classroom cupcakes, a St. Patty's Day party, or to decorate dessert for your own little Leprechauns.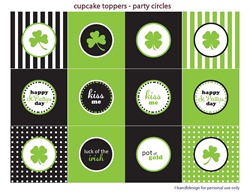 Click on the link below to print your own FREE set of cupcake toppers!  For best results, print on a thick cardstock and cut out using a circular hole punch like this one.  Glue to a popsicle-style stick and top off your frosted treats with style.
Try your toppers with these rainbow cupcakes to complete the St. Patrick's Day theme!