Even if you missed the lottery for the New Hampshire Polar Express, you haven't missed your chance to give your kids the Polar Express experience!  There are two other events happening in the area, in Marshfield and Rhode Island.
Marshfield Polar Express,December 12th, $20 per ticket.  The Polar Express comes to life on the Kingston Commuter rail!  Kids are encouraged to wear their pajamas for the one-hour train ride.  Children will give their wish lists to Santa, enjoy singing, cookies, hot chocolate, and stories read by Mrs. Claus.  Each child will also receive a special gift from Santa!  All proceeds from the Marshfield Polar Express benefit the Boys and Girls Club of Marshfield.  See website for more details or call (781) 834-CLUB.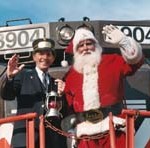 Rhode Island Polar Express,  November 7th, 8th, 14th, 15th and 22nd, $35 per ticket.  Ticket price includes a 90 minute train ride, cookies, hot chocolate, a holiday sing-a-long, a reading of The Polar Express book, and a visit from Santa!  Presented by the Blackstone Valley Tourism Council.  For more information click here or call (401) 724-2200.