This past weekend we celebrated our daughter's 3rd birthday with a Princess & Pirate themed party at our home.  Despite a rainy start, the skies brightened in time for our guests' arrival, and we ended up with a perfectly sweet party for our little princess!
The birthday girl wore a gorgeous Pink Tutu and matching Personalized Crown T-Shirt from Fairytale Tutu's.  The pictures just don't do justice to the cuteness of this outfit, it was just stunning in person.  It bounced when she ran, swirled when she twirled, and puffed perfectly when she sat.  What little girl could ask for more?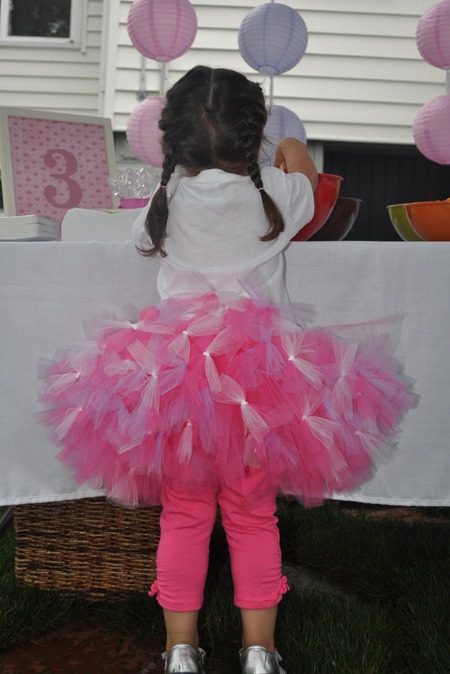 The dessert table was an explosion of pink with a little bit of green and purple mixed in.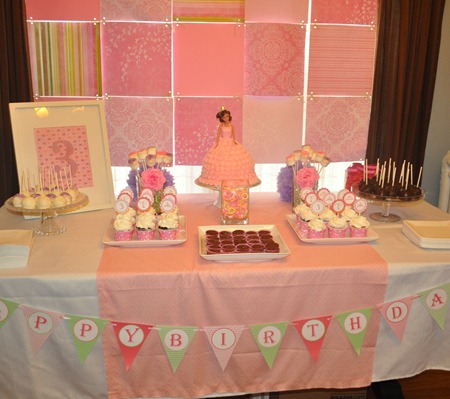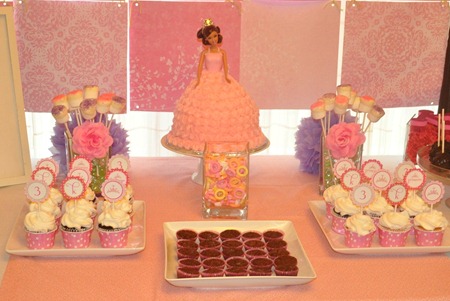 This beautiful Doll Cake was created by Sweet Melissa Cakes and Cookies.  The dress was covered in delicate pink frosting rosettes, the bodice made of fondant in the same color.  Melissa added a little bit of glitter, and the dress sparkled in person so prettily. The cake was so gorgeous, I didn't want to cut it up!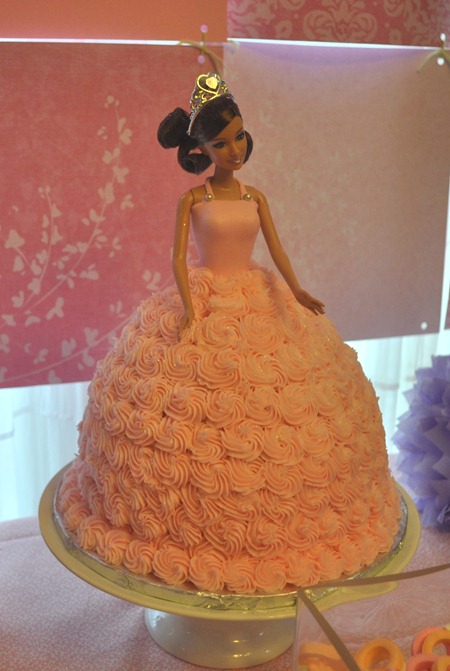 These adorable Princess Cupcake Toppers were designed by Kristin from K&L Designs using our party colors of pink and green.  So lovely sitting on top of sugary cupcakes!
I created the Scrapbook Paper Quilt Background after seeing this version at C Stands for Carrie.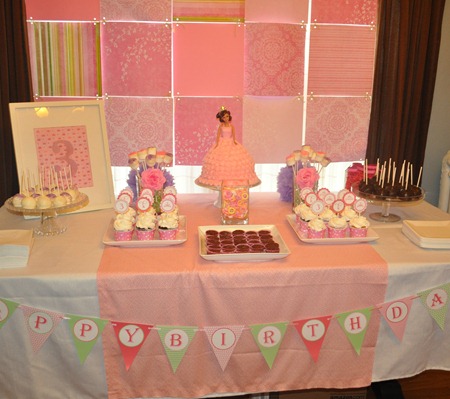 I designed the Happy Birthday Banner to match the cupcake toppers.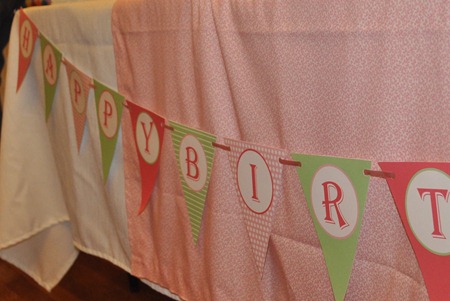 The girls had many Princess Gowns to choose from to dress up for the festivities.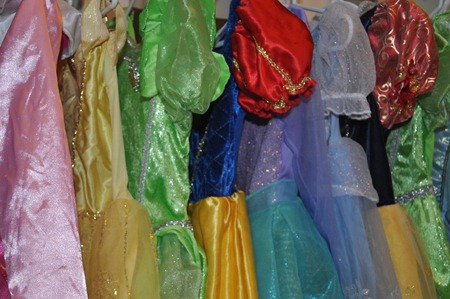 Guests were served Pink Lemonade.  Simple plastic cups were decorated with stickers using the cupcake topper design printed on sticker paper.  The cute Striped straws came from HeyYoYo.
This fun Tissue Pom Pom (and other smaller ones used inside the house) was made using this tutorial from Evelyn Kate Designs.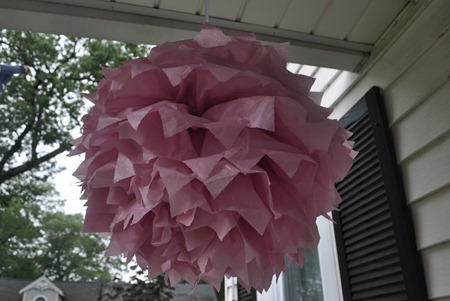 The Make Your Own Crown craft kits came from Oriental Trading.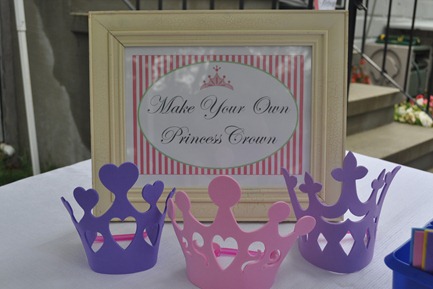 The Paper lanterns that hung behind the snack table came from JustArtifacts.com.  For a fun little touch, I purchased pink and green bottles of Hand Sanitizer from the dollar section at Target, and personalized them using labels printed on sticker paper.
And the big surprise of the morning – a visit from Princess Aurora from Little Miss Princess Parties!  She was just fabulous.  The girls were riveted as a real live princess read them a story, did beautiful face painting (even for some lucky pirates), sang a song, played games, and finished up with a walk down a princess runway with each lucky little girl.  Just perfect!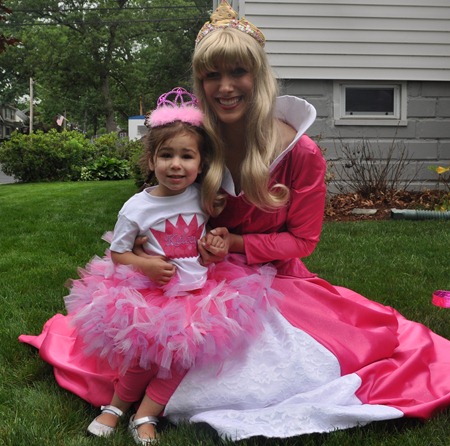 Time to sing to the birthday girl!  I just love this picture of Kelcey gazing at her cake.
When it was time to go, each little princess was given a Sparkly Star Wand to take home.  These lovely favors came from Fairytale Tutu's.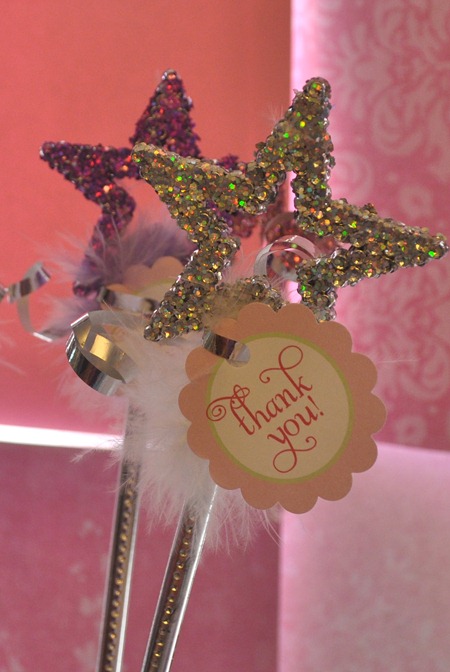 Not to leave out the boys, we had some pirate themed treats waiting for them.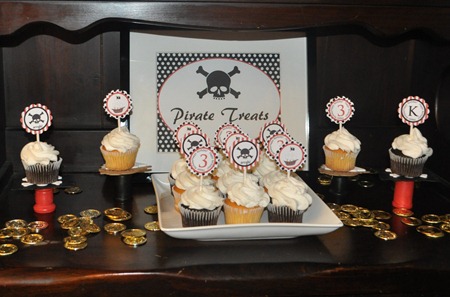 The boys thank you favors were Foam Swords from the dollar section at Target, what a bargain!
Happy Birthday Kelcey!