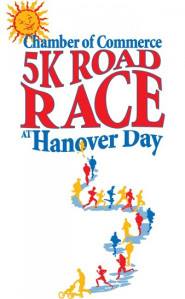 Hanover Day Road Race 2017 brought to you by
The Hanover Chamber of Commerce – 5K and Kid's Fun Run
June 24, 2017, 9:00 AM

Before the Hanover Day festivities kick off, come join us for a beautiful 5K run through Hanover! Children and adults welcome.
Single Registration – $30…but sign up now for only $25! Free t-shirts with your online registration, but only while they last!
Family Registration – $15 per runner (must be 4 or more runners in your family)
And don't forget to stick around after the race for the Kid's Fun Run, as well as awards, prizes, snacks and giveaways!